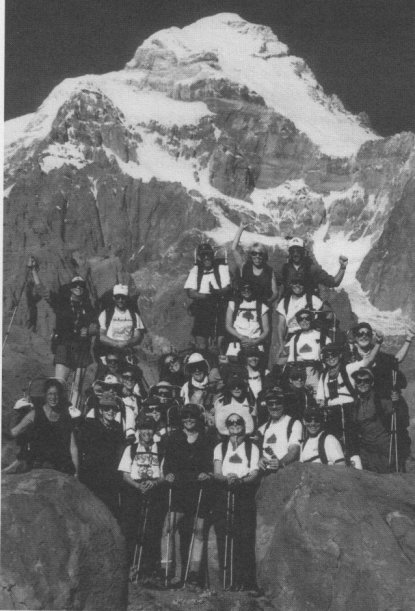 When Laura Evans was told she had only a fifteen percent chance of surviving breast cancer, she chose to fight for her life in her own way. Two years later, she reached the summit of Africa's Mount Kilimanjaro, and it was there that Laura came up with the idea for Expedition Inspiration.
Expedition Inspiration was conceived as a way to inspire hope and courage in women with breast cancer. To do this, Laura decided to lead a team on an expedition to conquer Aconcagua in Argentina, the highest mountain outside the Himalayas. The team for this expedition was a group of seventeen cancer survivors.
Many months of endurance training were necessary. It was only through courage, determination, and will power, complemented by physical training, that the challenge was met. Many of the women were undergoing cancer treatment at the time, which created additional hardships and made their efforts even more arduous. But they wanted to demonstrate to the world that, even under grave conditions people can successfully meet and embrace major challenges in life Three members of the Expedition Inspiration team successfully reached the 23,OOO-foot summit on February 4, 1995. The other fourteen team members attained their goal of between 15,OOO and 21,500 feet. This achievement was accomplished in spite of eleven days of harsh weather and winds up to one hundred miles per hour.
The team carried 170 Tibetan prayer flags, inscribed with the names of more than four hundred women who had faced breast cancer. Their goal was to raise 2.3 million dollars for breast cancer research. This special expedition of women who had suffered or were suffering from breast cancer was a brave gesture that proclaimed to the world; "Count me in. I've got a lot more to live for and a lot more to give in this life."
The enthusiasm of their assault on the mountain, the photos they took, the prayer flags they displayed proudly at the summit, as well as each woman's compelling personal story of her climb, served as a testimonial to inspire and raise awareness around the world
The achievement of the Expedition Inspiration team was - and is - exemplary in its own right. But it can also give courage to anyone faced with the challenge of a major debilitating injury or disease and inspire them to realize that they too can achieve their special goals. They too can say, "Count me in."